Why Choose SENOK AIR
For Corporate Charter Flights in Sri Lanka
Senok Air - Corporate Travel, sets the standard for comfort, reliability and style. We are a commercial airline service that endeavors to provide premier air taxi, transfer and charter services in Sri Lanka. With us, your company dignitaries are guaranteed to reach their appointments and corporate functions efficiently and in luxurious comfort. Our corporate aviation and domestic airline services offers a non-scheduled air travel services that will take you directly to the intended location or the closest landing point to arrange bridging conveyance to your destination. Avoid the rush, the delays and increase your productivity to attend multiple events or locations around the island in a single day.
Our fleet includes the most luxurious Airbus H125 (formerly Écureuil AS350 B3) helicopters known for its agility, performance, comfort with low in cabin noise and flexibility.
Safety is always a top priority at Senok Air. We put strict safety procedures in place and keep our helicopters maintained to the highest standards. Our pilots are ex-military and are of the most skilled, experienced and professional in Sri Lanka, having previously flown VIP & VVIP delegates and international dignitaries.
Senok Aviation is a global multinational company that has been an industry leader in commuter air services in Sri Lanka since 2011. It is part of the Senok Group of Companies an established conglomerate in Sri Lanka.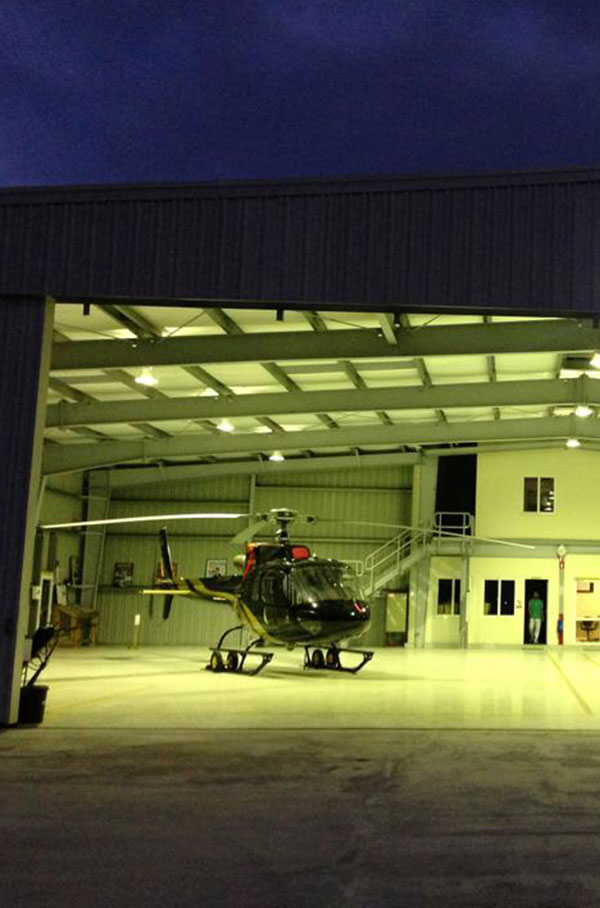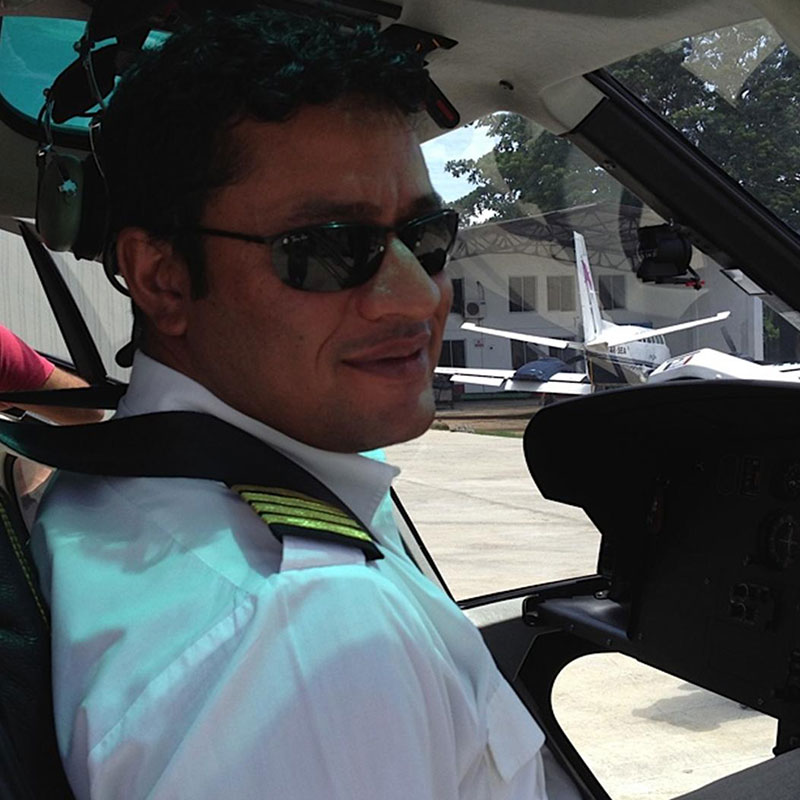 Captain Amal Wahid
Manager flight Operations / Chief Pilot
Highly trained pilot who served in the Sri Lanka Airforce for over 15 years and has the experience of over 4600 flying hours.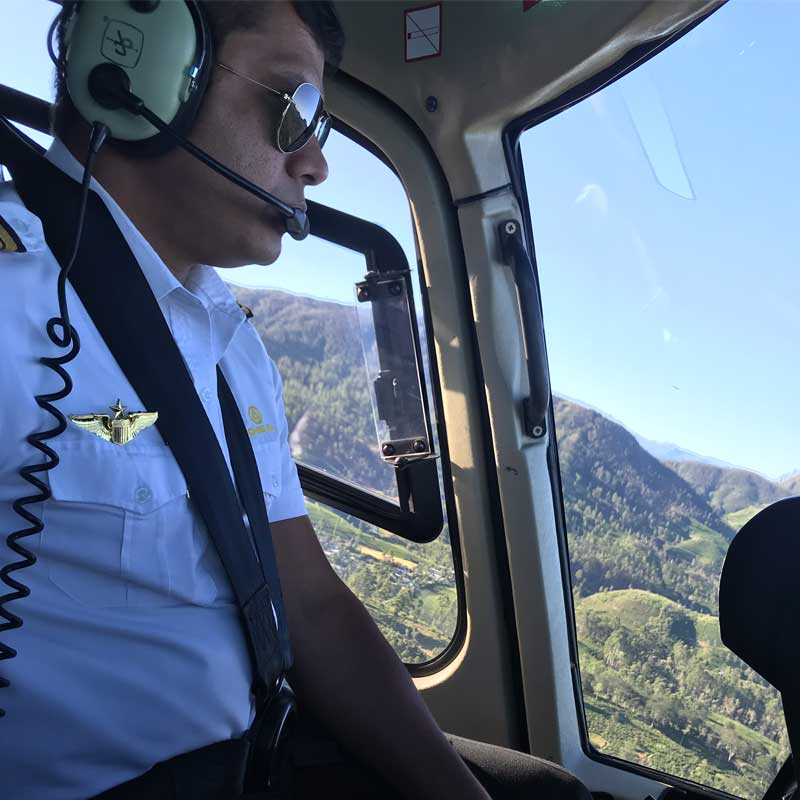 Captain Riyancy Rajapaksha
Helicopter Pilot
Served in the Sri Lanka Airforce for 20 years. Started as a commercial helicopter pilot in 2015 and has over 2500 hours of flying time.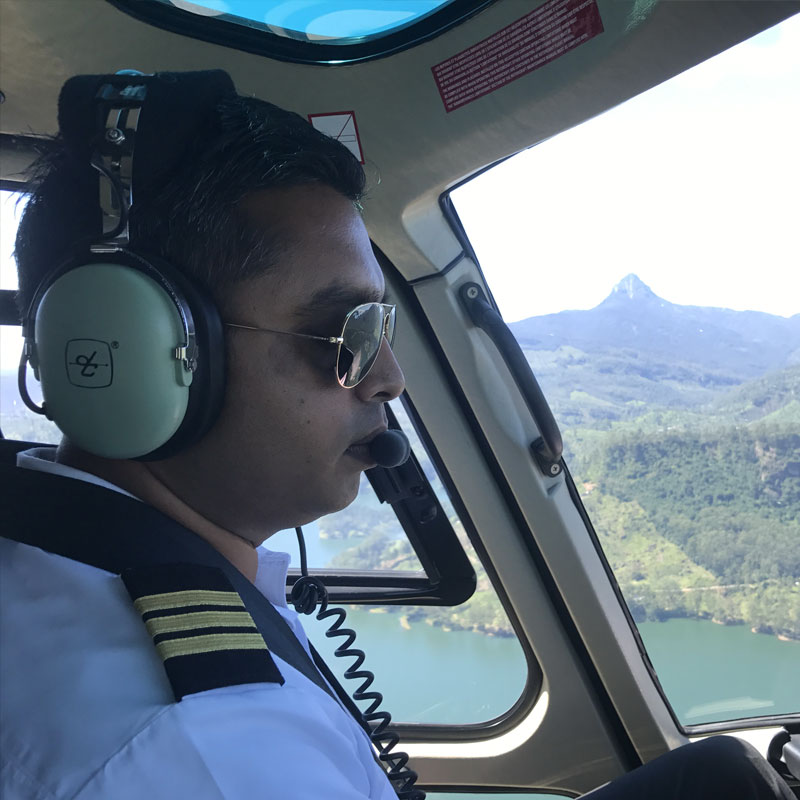 Captain Ruwan Fernando
Manager Flight Safety / Flight Operations Officer
Served in the Sri Lanka Airforce before commencing his commercial helicopter carrier in 2011 and has over 1000 flying hours.
Knowledge, expertise, experience and professionalism combine to define the ground staff, administration and marketing team that are geared to provide the highest level of customer service.
Wasantha Herath – Aviation Security Officer / Off Base Safety, Security and Airport Passenger Facilitation Officer
Rosemarie Carter – Senior Sales and Marketing
The most experienced and highly trained Engineers and Maintenance Technicians in the aviation industry with a combined counting of over 100 years of turbine experience both in Military and Civil organizations.
Healy Herath – Manager Engineering
Anura Jayakody – Chief Engineer
Supuna Widanagmachchi – Manager Quality
Lionel De Silva – Senior Aircraft Technician
Dinesh Bandara – Aircraft Engineer
Senok Group of Companies
The Epitome of Diversification
The Senok Group of Companies was birthed in 1979 and today has grown to be a conglomerate of over 50 companies. Diversification is the key to its success. The Senok Group spans over various segments and sectors of business. Its business associations operate across extensive regional and global markets, partnering with principles of leading global brands.
Senok deals with an extensive range of industries and businesses such as travel, construction machinery, automobiles, tea, energy, mining and aviation. It has always been at the forefront of innovation, attracting the latest technology to guarantee sustainable and high-quality business ventures.
The success of Senok is driven by the employees, who number more than 2000 at present. Investment in people is always seen as vital to providing outstanding customer experiences. This principle has propelled The Senok Group of Companies the recognition of being amongst the premier privately-owned business conglomerates in Sri Lanka.
Our Brands
We provide the most luxurious services
The Senok Group comprises of 38 Companies. They range from luxury automobile agencies to heavy machinery dealerships, construction of large infrastructure projects, BOO Partners in the renewable energy sector, export of Ceylon tea. Private air charter, mining, wind power, solar power, hydropower and large investments in the luxury leisure industry and more. Senok also has global presence in Japan, Africa, Europe, USA, India & the Maldives. We deal with the largest banks like Commercial Bank, Hatton National Bank, National Development Bank and DFCC, HSBC, Standard Chartered, ADB, KFW and IFC World Bank. Senok is a privately-owned company and a pioneer in most of its businesses in Sri Lanka. We are also registered with the UNFCC under the clean development mechanism and have executed a contract with the Asian Development Bank for the sale of carbon credits. Senok has also achieved financial closures in Japan, Africa, Europe, USA, India & the Maldives. We operate on the concept of strategic business units and concentrate on each unit for achievement of its bespoke targets and goals.
Our Clients
Diverse in requirements, demography and social class
Our aviation services and facilities are tailor-made to suite almost any type of customer. We have attracted the attention of the corporate sector, scientific expeditions, emergency rescue missions, airborne ambulance agencies and even film crew. We have also provided air charter services for government dignitaries, politicians and celebrities.
In-depth knowledge of Sri Lanka, friendly flight crew and highly skilled and experienced pilots have combined to offer attractive options from foreign agencies and high-end tourists to bucket-list tickers and honeymooners.
Our aircrafts are designed to offer a comfortable ride to almost any demographic of passengers and versatile to transport light cargo in providing bespoke concierge services.
Testimonials
We sought Senok Air Charter Services at very short notice and were extremely impressed with the level of service they provided. The charter we arranged was done outside of the normal working day and with only a few hours' notice.The team at Senok Air were exceptionally prompt in their response and professional. Nothing was too much trouble for them and their care and attention to detail was second to none. I would have no hesitation in recommending them to anybody considering chartering an aircraft and, indeed, would certainly use them again in the future.
Senok Air were a pleasure to deal with in the planning stages and totally efficient in their approach. They sent me photos of the planes, explaining all the options. Despite many chops and changes to the itinerary they kept a positive attitude and I truly felt they were always on the end of the phone, if and when I had any queries.I was particularly impressed with the attention to detail in making sure that the guests were looked after, and unforeseen contingencies were dealt promptly. The fact that the staff and crew were on the mobile all day was very comforting as it made my job much easier.
My experience with Senok Air was excellent! With their help, I have managed to arrange a trip in a very short notice. The staff was very polite and professional giving me a sense of trust.I look forward to the opportunity of working with Senok Air in the near future.
Senok Air is a fantastic team that is very easy to work with! They managed to tailor their solutions to the requirements of our small group. The helicopter was of a high standard and the crew was wonderful, and well aware of our necessities on the trip. They maintained flexibility throughout the day. I highly recommend Senok Air and will certainly seek their services again.